The Phase II Dental Transition Team is committed to successfully helping you strategically complete your transition needs. Their dental and business experience is a winning combination to bring their clients valuable insight and win-win outcomes.
Jerri Grant
Director, Client Transition
Jerri Grant serves as our Director of Client Transition and brings a passion for quality customer service to the position. She graduated from the University of Texas in 1986 with a BA in Finance. Jerri combines her background in banking/asset management and 20+ years volunteer experience with a love of working with people as she assists clients and supports the Phase II team. She possesses a true desire to help clients achieve their goals.
Lynne Gerlach, DDS, FICD, FACD
General Dentist
Dr. Lynne Spencer Gerlach earned her status as a successful restorative dentist and businesswoman in her 26+ year career practicing in various practice models. From startups to partnerships and solo private practices, her experience in transforming businesses is a passion. Practice systems and management are as much a piece of her puzzle as patient care and continuing education. Her greatest challenge came when she succeeded her father in the oilfield equipment business and served as its President for 3 years successfully growing and subsequently transitioning it to new owners and it continues today. Those business experiences have been influential in helping doctors in their transition needs since 2013. Dr. Gerlach often lectures on Practice Transition topics and writes for dental publications.
Dr. Gerlach's LD Pankey Dental Foundation experience began in 2001. She has served as visiting faculty, a Pankey Advisor since 2008 and has served as secretary for the Pankey Foundation Board of Directors. Dr. Gerlach was part of the Spear Faculty Study Club for several years in Scottsdale, Arizona as well. She served the Dallas County Dental Society Board of Directors as editor and previously served the Texas Dental Association as part of the Membership Council. She currently serves the Texas DENPAC Board and remains active in organized dentistry. She has been a delegate to the TDA since 2005 and is a fellow in the American College of Dentists, International College of Dentists and a member of ADA, TDA, DCDS, and ADI. Dr. Gerlach completed her Certification in the ADA Kellogg Executive Management Program in Chicago in 2014.
Dr. Gerlach has served numerous community groups such as National Charity League, Young Men's Service League, Plano Youth Leadership, and Leadership Plano. She has served St Andrew UMC as chair of Staff Parish Relations and the Board of Trustees. She currently serves on the Finance Committee for St. Andrew. She and her husband, Dr. Bill Gerlach have two grown children, Meredith and Creighton. Her hobbies include sports, music, travel, bridge, and cooking.
Joel C. Small, DDS, MBA, ACC, FICD
Endodontist
Dr. Joel C. Small earned his reputation as a respected endodontist and businessman throughout the course of his 35 + year career. He cofounded North Texas Endodontic Associates (NTEA) in Plano, Texas in 1992. Joel has remained active in organized dentistry throughout his endodontic career. He has served the American Association of Endodontists (AAE) in several capacities including trustee of the Research and Education Foundation. He chaired an AAE sponsored symposium on endodontic microsurgery, and he has served as a national spokesperson for the AAE. He is a past president of the Southwest Society of Endodontists. Locally, he has served as a past member of the Dallas County Dental Society Board of Directors and contributed to numerous charitable events as the president of the DCDS Foundation.
Dr. Small lectures throughout the country on numerous topics pertaining to practice management, dental practice transitions, and leadership for practice owners and entrepreneurs. His recently published his first book on leadership, Face to Face: A Leadership Guide for Health Care Professionals. He is also a frequent contributor of articles on practice management for various dental journals.
Dr. Small received his DDS and endodontic postgraduate training at The University of Texas Dental branch in Houston, TX. He is a Fellow in the International College of Dentists (FICD). He received his Masters of Business Administration degree (MBA), with an emphasis in health care administration, from Texas Tech University. He is a graduate of the University of Texas at Dallas, Jindal School of Management, post-graduate program in executive coaching. Dr. Small holds an ACC Credential from the International Coach Federation. Joel brings to Phase II Dental Transitions the experience and expertise of a long career in clinical dentistry. Joel believes that no one can understand the uniqueness of transitioning a dental practice better than someone that has full knowledge of the dentist's needs and the "know how" to meet those needs. Phase II Dental Transitions caters specifically to dentists who need guidance and assistance in practice transitions – from practice sales to associateships to purchasing a dental practice.
Marshall V. Johnson DDS, MS, FICD
Periodontist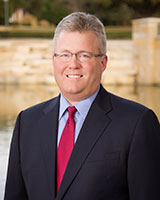 After 30+ years in practicing periodontics, Dr. Johnson has seen the pros and cons of growing his practice from its inception, managing that practice, maintaining positive staff relations and nurturing patients. With that hands-on experience comes the ability to assist other doctors with the examination and analysis of their practice and to aid in its transition. He is first and foremost a "people person" and practice transitions are all about putting the right people together!
Dr. Johnson attended Texas A&M University and received his doctor of dental science degree from Baylor College of Dentistry in 1987. Upon graduation, he attended the University of Missouri-Kansas City School of Dentistry where he completed his residency in Periodontics in 1989.
Dr. Johnson has an established private practice limited to Periodontics in Plano, Texas that has been successful for the past 25+ years. After a distinguished career as a solo practitioner, he currently practices under a space sharing arrangement with another respected periodontist. He is a Diplomate of the American Board of Periodontology and Fellow of the International College of Dentists. Dr. Johnson has been very involved in organized dentistry throughout his career. This includes membership in the American Academy of Periodontology, the Southwest Society of Periodontists, and the Texas Society of Periodontists. Additionally, he has been involved with the American Dental Association, the Texas Dental Association, Dallas County Dental Society, 4th District Dental Society, and as Past-President of the Greater Plano Dental Society. Dr. Johnson has been named one of the Best Periodontists in Dallas by D Magazine and in the State of Texas by Texas Monthly Magazine.
Dr. Johnson has also served his community in many ways including a coach for various youth sport teams for his sons as well as membership in the Plano Rotary Club for 20 years. He has served on many local Board of Directors including Chairman of the Plano YMCA, Chairman of Plano Youth Leadership, Leadership Plano, Plano Independent School District Education Foundation, and City House.
Dr. Johnson and his wife Jennifer have lived in Plano since 1989. Their family includes three sons; Ryan graduated from Texas A&M and recently Baylor Law School, Kyle graduated from the University of Alabama and is currently attending Texas A&M College of Dentistry in Dallas and Travis is attending Baylor University.